Overview Tabs Galemus Collection Management
The first step in managing your collection is entering objects with data. Each object will then have a file (record) with various tabs.
On this page you see several of the tabs with short descriptions. The example object is a group of statues by Iris Le Rütte. All other objects like paintings, buildings, coins, furniture, etc. can be entered in this way. By clicking on the pictures of the tabs you can get a better view.
In some tabs the data is within a box. This data can be entered multiple times, for instance more parts, more locations, more valuations, etc. can be given for one object.
General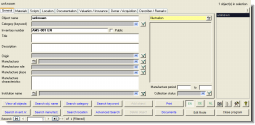 General data on your objects can be found here. Apart from category, object name and manufacturer, pictures can also be entered. Object name is compulsory. Name of manufacturer can be given and also entered in the Address book* if so desired. You can also give an indication of the importance of the object in your collection as in the Museum Inventory Project (MUSIP). You can also mark an object as 'Public'. Public objects can be published on the internet. Non public objects will thus not be published.
Materials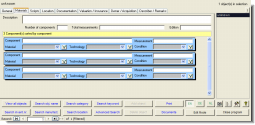 Here you can describe the physical characteristics of the object. The number of parts of your object and its overall measurements can be given. Each part can be described separately. There is room for as many parts as are needed. Each part has its own compartment. In the example boxes are shown for three parts.
Script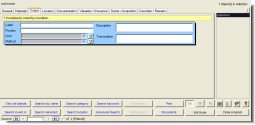 One or more inscriptions can be given per object. More details can be given for each inscription. The example shows a box for one inscription.
Location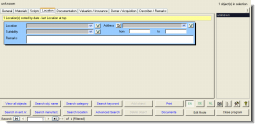 Here you can enter the location(s) of the object. Also its history can be traced and the most recent location is top of the list. You can indicate if you wish to view only the most recent locations (e.g. to check if it is all there) or if you wish to see its whole history. When using the address for a location, you can use an address from the address book*. The example is for one location.
Documentation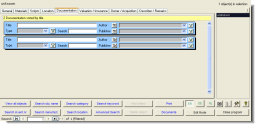 You can manage your publications and other documentation of each object here. Add as many documents as desired. When entering the name of an author or publisher you can use an address from the address book*. If you give an internet address in the Search window you can go directly to this page by clicking. In the example two boxes are shown.
Valuation / Insurance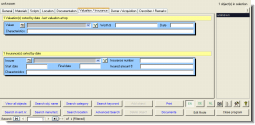 Data about assessment c.q insurance can be entered. The address book* can be used for names of assessors or insurance companies. The example is given for one assessor and one insurance firm.
Owner / Acquisition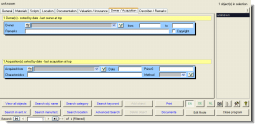 Data about the owner or concerning the acquisition can be entered. The address book* can be used. More than one owner, institution or persons from whom the object was bought is possible which allows you to keep track of the history. One can show whether the copyright is also held by the owner. Examples are given for one owner and one acquisition.
Restaurations
One or more restaurations can be given per object. More details can be given for each restauration. The example shows a box for one restauration.
Description / Remarks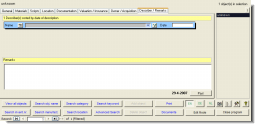 The last tab is for remarks and also details of the inscriptor. The address book* can be used and more than one inscriptor can be given.
Address book*
The Collection Management Application has an address book in which you can keep the addresses used throughout the application. By indicating categories to an address, it can be used in several places. E.g. someone can be manufacturer as well as owner.